The 2017 Summer Aquatic season is just around the corner.  We are having our Summer 2017 registration in two phases for our current members.  Registration for new members will occur after March 26th.
Registration is on a first come first serve basis.

Phase I: 2016 Summer Season Returning Members
Who:  anyone who was a member of the club during the 2016 Summer Season 
When: Saturday Feb 25, 2017 from 12:30 to 4:00 pm 
Where: Poirier Sports and Leisure Complex (PSLC) Room 2 Upstairs
When: Sunday Feb 26, 2017 from 12:00 to 2:30 pm
Where: PSLC Room 2 Upstairs

Phase II: Fall 2016 and Winter 2017 Members and 2016 Summer Season Returning Members
Who:  Anyone who became a member of the club during Fall 2016 and Winter 2017 sessions and any remaining 2016 Summer Season returning members
When: Saturday March 4, 2017 from 12:30 to 3:00 pm 
Where:  PSLC Room 2 Upstairs
When: Sunday March 5, 2017 Time to be confirmed
Where: Location to be confirmed
What to bring for Registration
 
Athlete's Proof of Age – birth certificate, Care Card, Passport or other Canadian government issued identification with your athlete's birth date.  We must see ORIGINAL Identification not photocopies or cell phone pictures.  NO ONE will be allowed to register until the proper identification has been viewed by a member of the Club Executive.  PERIOD. 
Registration Payment – Cheque or Cash to pay for the Summer 2017 Fees. Full payment must be received in order to register.

   

Our Fee Schedule is here.
Volunteer Cheque – $200 Volunteer cheque post dated September 15, 2017
Please print and complete the following forms:
We will print your BCSSA and S&O Form.  


If you have any questions regarding Registration please email registrar@coquitlamsharks.org.

If you have any questions regarding a specific sport please email the appropriate Sport Director
swimming@coquitlamsharks.org
diving@coquitlamsharks.org
waterpolo@coquitlamsharks.org
synchro@coquitlamsharks.org
We will be offering our Winter Maintenance starting in January 2017.  Please note if you are a returning Shark member registration  it's on the following dates:
Friday

Nov 25

5-7pm

Poirier Sport and Leisure Complex
AND
Saturday

Nov 26

8-10am

Poirier Sport and Leisure Complex
You are a  returning Shark member if you were registered in either the Summer 2016 season or the Fall 2016 maintenance session.
Open Registration and swimming assessments will take place
Sunday

Dec 4

2:30 – 4:30pm

City Centre Aquatic Complex
Please fill out the registration form and bring on the day you are registering.  If you are a new member you will need to bring in either CareCard or birth certificate.
REGISTRATION FORM includes registration instructions,  schedule and fees.
We invite all Shark members past and present to participate in being part of the legacy.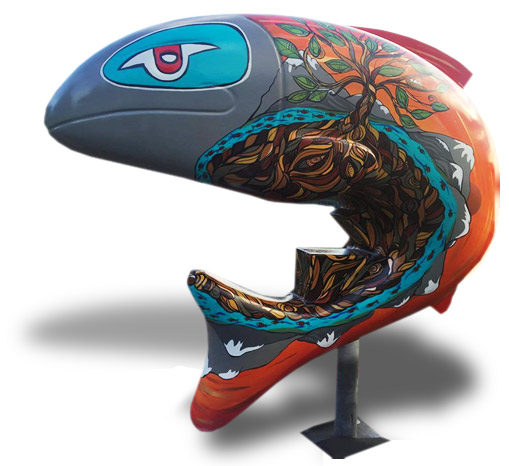 Our club has the opportunity to leave a lasting legacy in Mundy Park. As part of the 125th Anniversary Celebration, Coquitlam has commissioned 12 Salmon Sculptures which have been decorated by local artists.
We have the opportunity to sponsor the Sculpture that will be placed in Mundy Park near the playground on Hillcrest Street. A commemorative plaque with our club name will be placed with the Sculpture.  This Sculpture is approximately 6 feet tall,  3 feet wide and 5 feet deep.
If you would like to contribute to this legacy please click on the Donate button. If everyone in the club donates between $10 and $20 we will be able to cover the cost of sponsorship.
The sponsorship cost is $5,000.
Mundy Park Artist: April Lacheur. Telling the story of Coquitlam's past, present and future, Lacheur's colourful and hopeful design incorporates salmon, First Nation elements, a river, a tree and mountains.  To find out more about this artist go to her website http://yapespaints.com/
How to Donate:
Please click on the PayPal button. Note you do not need a PayPal account to make a donation. Once you click on Donate you will be taken to a PayPal page – choose to either Login to PayPal or go to the bottom of the page where it has "Don't have a PayPal account? Use your credit card or bank account (where available). Continue". Just click on continue and you will be able to use your credit card.
To find out more about the Sculptures read the following article from the Official Coquitlam 125 website.