We invite all Shark members past and present to participate in being part of the legacy.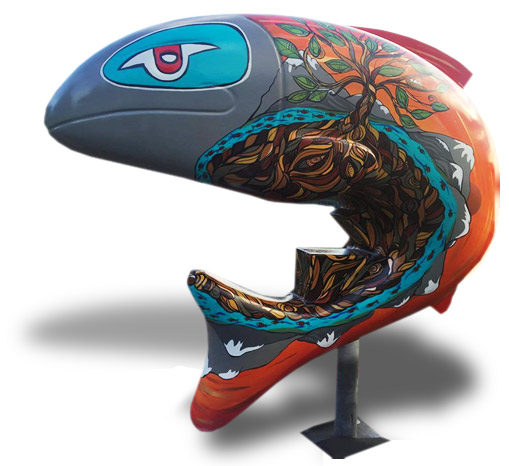 Our club has the opportunity to leave a lasting legacy in Mundy Park. As part of the 125th Anniversary Celebration, Coquitlam has commissioned 12 Salmon Sculptures which have been decorated by local artists.
We have the opportunity to sponsor the Sculpture that will be placed in Mundy Park near the playground on Hillcrest Street. A commemorative plaque with our club name will be placed with the Sculpture.  This Sculpture is approximately 6 feet tall,  3 feet wide and 5 feet deep.
If you would like to contribute to this legacy please click on the Donate button. If everyone in the club donates between $10 and $20 we will be able to cover the cost of sponsorship.
The sponsorship cost is $5,000.
Mundy Park Artist: April Lacheur. Telling the story of Coquitlam's past, present and future, Lacheur's colourful and hopeful design incorporates salmon, First Nation elements, a river, a tree and mountains.  To find out more about this artist go to her website http://yapespaints.com/
How to Donate:
Please click on the PayPal button. Note you do not need a PayPal account to make a donation. Once you click on Donate you will be taken to a PayPal page – choose to either Login to PayPal or go to the bottom of the page where it has "Don't have a PayPal account? Use your credit card or bank account (where available). Continue". Just click on continue and you will be able to use your credit card.
To find out more about the Sculptures read the following article from the Official Coquitlam 125 website.